- The Hindu dated January 31, 2010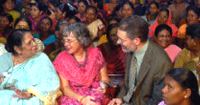 U.S. Consul-General in Chennai Andrew T. Simkin (right), along with his wife interacting with Jaya Arunachalam, founder, Working Women's Forum, in Chennai on Friday. CHENNAI: Women's empowerment is one of the subjects included in bilateral discussions between India and the United States, said Andrew T. Simkin, U.S. Consul General in Chennai, here on Friday.

Addressing the annual planning meeting of the Working Women's Forum (WWF), Mr. Simkin said a trend prevailed in the United States, where women with high educational qualifications and more income were married to men with lesser educational qualifications and lower income. Researchers had predicted that this would lead to collapse of the families, but were proved wrong.

Jaya Arunachalam, founder of the WWF, said the organisation proposed to conduct vocational training programmes in computers, tailoring and music as it had realised that education alone would not suffice in empowering girl children.

Experiences shared
Sharing their experiences with the participants Ms. Maheswari, a repatriate from Myanmar, said when she returned to India she had no relatives to turn to. When she heard about the WWF she joined and learnt embroidery. She was now able to earn a livelihood.

Another member, Parvathi, said the home run by the organisation was very useful to orphans and children of single parent.

The children were provided education and, when they grew older, showed interest in helping the home.

Mr. Simkin released the annual plan of WWF for 2010-2011.

Uma Gopal Deb, Vice-President, Micro finance, Citibank, spoke.